Share this URL: http://ravin.peatix.com
Event is FINISHED
DJ Ravin (Buddha Bar, Paris) Party & Beauty Legs Contest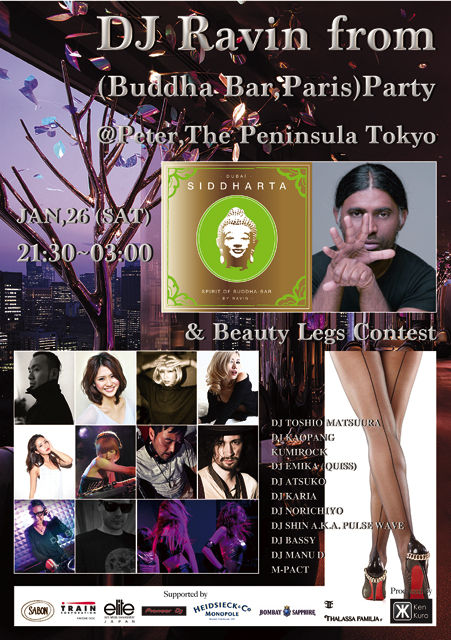 From its opening in Paris in 1997, Buddha Bar has grown to have 14 locations throughout the world. DJ Ravin has been the mastermind behind the ambient music played at all those venues. His compilation albums include Buddha Bar III, VI, VII, IX that gained a double gold disc award and sold more than a few million copies in total.
It will be his first appearance in Tokyo since January last year and the venue will be Peter at The Peninsula, Tokyo, known for its luxurious setting.
Also playing is DJ Toshio Matsuura who fascinated us all in his last appearance at Peter in last March with Us3 DJ Unit. DJ Karia Nomoto, DJ Kaopang, a live singer KumiRock and a dance unit M-Pact will make their debut at The Peninsula, Tokyo. KenKuro believes that they will make strong impact on Tokyo's club scene this year.
Sky Room will be entertained by Team Infas led by Norichiyo and Bassy. They are determined to bring back the excitement after their epic performance at the countdown party at Shangri-la Hotel, Tokyo!

What makes this party even more special is Tokyo's first beauty legs contest. Anyone can participate in this contest and the votes are casted only on the merits of legs as the contestants will be wearing a mask. Wonderful prizes will be offered from Sabon Japan and Train Corporation. Hitomi Shigeta, the president of Elite Models Management Japan, and Kayoko Asai, a walking/posing stylist, will be the special judges. You may get a chance to have a contract with one of the world's top model agencies. MC will be Tomoko Maeda who was crowned Miss Earth Japan 2011.
【Contest Awards】
- The possibility to sign a contract with Elite Japan
- The possibility to be an advertisement model for Train Corporation
- 100,000 yen worth of prizes for the winner, 50,000 yen worth of prizes for the runner-up and 30,000 yen worth of prizes for the finalists.
- Free private walking lesson by Kayoko Asai
If you are interested to participate as a contestant please write to ken@kenkuro.jp by Jan. 20th. If there are many applications we may have a preliminary selection.

@PETER
DJs
- Ravin; https://www.facebook.com/djravinpage
- Toshio Matsuura; http://toshiomatsuura.com/
- Atsuko; https://www.facebook.com/atsuko.satori?fref=ts
- Karia Nomoto; https://www.facebook.com/karianomoto?fref=ts
- Kaopang; http://iflyer.tv/artist/24500/KAOPANG/
Live
- KumiRock
Dance
- M-Pact; http://www.youtube.com/watch?v=ZrWoI1Bv620

@Sky Room
DJs
- Norichiyo; https://www.facebook.com/norichiyo
- Bassy; https://www.facebook.com/ishibashi.kou
- EMIKA (QUISS); http://www.facebook.com/emika.honey
- shin a.k.a. pulse wave; http://ameblo.jp/shinkimura/
- Manu D
Relaxation Massage
- Salon de chacha; http://www.salon-chacha.jp/

BEAUTY LEGS CONTEST
Sponsors
- Train Corporation; http://www.train.co.jp/corporation/
- Sabon Japan; http://www.sabon.co.jp/
Costumes and accessories
- Thalassa Familia r; http://thalassafamilia-r.com/
Special Judges
- Kayoko Asai; https://www.facebook.com/asaikayoko

- Hitomi Shigeta; http://www.elite-tokyo.co.jp/
- Yasuyuki Hasegawa (the president of Train Corporation)
- Kazuhiro Kuroishi (the president of Sabon Japan)

read more
Updates
イベント詳細情報を更新しました。 Diff#4854

2013-01-12 07:28:55
More updates
Jan 26
-
Jan 27, 2013
[ Sat ] - [ Sun ]
9:30 PM
-
3:00 AM
JST
Add to Calendar
Venue

The Peninsula Tokyo
Tickets

Advance Ticket

SOLD OUT

¥4,000

Advance Pair Ticket

SOLD OUT

¥7,000
Venue Address

1-8-1 Yuraku-cho, Chiyoda-ku, Tokyo

Japan
Organizer